Quad Biking
Are you ready for some great off-road fun? Our quad bikes are automatics which make them intuitive and easy to handle and control. Even if you are a beginner, you should be able to quickly pick up the skill of driving them.
You can choose any of our 3 tracks.
Our Wooded track situated in an ancient forest is tranquil and relaxing. The trails are stunning and this is a favourite of our older guests.

The Landscape track features some steep and challenging man-made hills. Beginners can handle this course once confidence is built on the wooded and training track.

Our Circuit track is faster with more open sections. You can go whatever pace you want, but this is suited towards a more speedier guest.
Bonus: In late summer - August and September, we set up a custom course on the newly combined harvested field. It makes for a wide track, suited for all skill levels. On a fine Scottish day with the sun shining, this is fabulous fun. With a real sense of freedom on the track.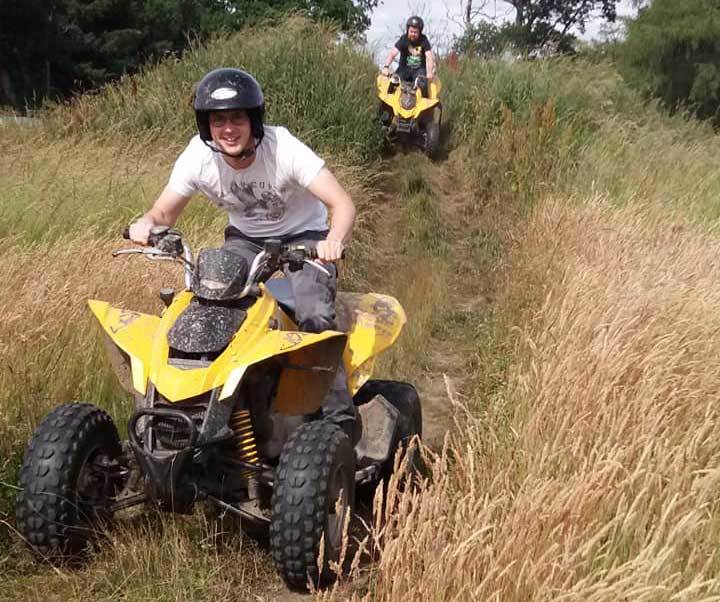 Safety is paramount with quad biking. We ask you to take a strong pair of boots, but we provide all equipment, helmets and overalls depending on the weather.
Quad biking can be taken as a single activity but many guests pair it with Clay Pigeon Shooting. You can choose any or all of our activities. The choice is completely yours!
Availability?
It's Oct 2019', we are winding down for the season. If you are looking to visit us in the next month or so we should have availability for you. However, spring and summer 2020 visits are filling up quick so please use the Quick contact form
at the bottom of this page

or contact us to avoid disappointment.